Issues & Actions

PLAN A: NCJW's CAMPAIGN FOR CONTRACEPTIVE ACCESS
Aims to serve and protect access to contraceptive information and options. Plan A is fi rmly rooted in the belief that such access is necessary for women's well-being and equality.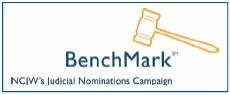 BenchMark: NCJW'S JUDICIAL NOMINATIONS CAMPAIGN
Aims to ensure a fair and independent judiciary that keeps faith with constitutional values. Courts matter. Federal Court decisions impact every aspect of our lives. NCJW believes that judges confi rmed to lifetime seats on the bench must have a commitment to constitutional rights, including reproductive rights.

Higher Ground: NCJW's Domestic Violence Campaign is a national effort to end domestic violence by improving the economic status of women. Grounded in the understanding that economic security is critical to women's safety, Higher Ground educates and mobilizes advocates, community-members, and decision-makers to promote progressive policy solutions that champion women's economic autonomy.

VOICES FOR REPRODUCTIVE CHOICES:
This NCJW initiative speaks out for every woman's reproductive rights and access to reproductive health care including safe and legal abortion, regardless of age or ability to pay.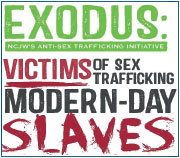 EXODUS: NCJW'S ANTI-TRAFFICKING INITIATIVE
Focuses on raising awareness about sex traffi cking of women and children in the US and aims to create important social change through the passage and enforcement of laws.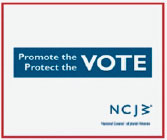 PROMOTE THE VOTE PROTECT THE VOTE:
Voting is the cornerstone of democracy. NCJW has renewed our efforts to protect voting rights and ensure laws and policies that facilitate voter participation. Addressing these issues allows NCJW members a chance to communicate with legislators, media and community leaders to effect change in public policy to benefi t women, children and families. NCJW encourages civil engagement without supporting or opposing any candidates.
NCJW Israel Program "At a Glance"
The National Council of Jewish Women (NCJW)'s work in Israel directly mirrors our work to create progressive social change in the United States. Our pioneering programs in Israel foster and support education, promote empowerment of women, and bridge the gaps in society for Israel's vulnerable women, children, and families. In July 2005, NCJW welcomed a partnership with US/Israel Women to Women (W2W), an organization dedicated to supporting grassroots programs and advocacy efforts for women in Israel. This partnership continues to create meaningful opportunities to build on a shared legacy of courageous, compassionate work to improve the lives of women, children, and families in Israel.

If you would like more information or are interested in supporting NCJW's Israel program, please contact Shari Eshet, Director of NCJW's Israel office, at ncjwisrael@gmail.com.

NCJW's programs in Israel include:

Advocacy and Coalition Work

Through coalition work in Israel, NCJW is actively involved in social action and advocacy issues in the areas of poverty and food insecurity; tolerance, co-existence and promotion of equal citizenship for Israeli minorities; children's and women's empowerment (including the rights of agunot, women who are refused a get, or Jewish religious divorce by their husbands), trafficking, and the equal participation and representation of Israeli women in all national conflict resolution processes. NCJW is committed to advancing women's status and rights in Israel by helping them develop a stronger voice on all levels of Israeli society, as well as supporting at-risk populations, with a special emphasis on children.

NCJW's Action Center broadcasts emails with breaking news and information on advocacy initiatives, enabling participants to easily send instant action emails to policy-makers. Some of our recent action alerts related to our Israel agenda include calls for: support by the Knesset of legislation to provide nutritious meals for all school children in Israel; protection of Agunot; promotion of equal access to opportunities for all Israelis, and the implementation of the recently passed law implementing UN Security Council Resolution 1325, a resolution that calls for women to be involved in "all decision-making levels for the prevention, management, and resolution of conflict." If you do not already receive NCJW action alerts, please go to our website at www.ncjw.org to sign up for the NCJW Action Center to advocate on behalf of our Israel and domestic agendas.

Israel Granting Program

NCJW's Israel Granting Program sustains diverse, pioneering projects via its grassroots grants that teach, support and empower women, children and families throughout Israel. Grants are allocated in two categories: Yad B' Yad, NCJW's initiative to Nurture Knowledge, and Women to Women, NCJW's Empowerment initiative. Together they support important social change efforts in Israel, strengthen communities, help ensure the well-being of Israel's people, and carry on NCJW's legacy of education and empowerment work abroad.

NCJW Funding at Tel Aviv University

The NCJW Women and Gender Studies Program at Tel Aviv University, established in 2001 with a $1 million endowment by NCJW, educates and nurtures students to see the world through a gender lens and become agents of social change in Israel for years to come. This groundbreaking program, the first bachelor degree-granting program of its kind in the Middle East, provides an interdisciplinary approach to teaching and research through over one hundred courses from the faculties of Law, Humanities, Art, and the Social Sciences. In the 2007 fiscal year, NCJW completed its funding of this innovative program. NCJW continues to award scholarships to students in need for studies in the NCJW Women and Gender Studies Program.

NCJW Research Institute for Innovation in Education at Hebrew University (RIFIE)

In support of the development of educational programs in Israel to bridge societal gaps, in 1969 NCJW created the NCJW Research Institute for Innovation in Education (RIFIE) at Hebrew University, where researchers develop and facilitate innovative methods of education to meet the needs of immigrant and disadvantaged children and their families, promoting their integration into Israeli society. RIFIE's Home Instruction Program for Parents of Preschool Youngsters (HIPPY) won such acclaim by the Israeli government that it was implemented nationally in 1975, and has since been expanded to 167 international sites, including the US. NCJW continues to fund programs at RIFIE through the RIFIE endowment.

NCJW also invests in the future of Israeli society by providing scholarships for study at the Hebrew University High School through the Drabkin Scholarship Fund.

NCJW Mission to Israel

NCJW missions to Israel offer the opportunity for participants to put their commitment to progressive social change into action as they experience the tremendous impact of the NCJW Israel Program on a personal level.

The NCJW Israel Office is located at:
NCJW Research Institute for Innovation in Education, Room 267
Hebrew University, Mt. Scopus
Jerusalem, Israel 91905
972 2 5882 208
ncjwisrael@gmail.com